I had long heard stories about a little known fishing hole smack dab in the middle of Santee.  A place that is quiet, secluded, and peaceful.  A place where the fish just can't wait to bite and the birds erupt in a chorus of perpetual song.  All of this right in the middle of busting Santee.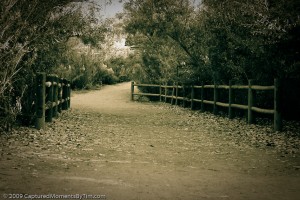 I couldn't let a mythical place like this go unexplored.  So as the sun was getting a bit low in the sky I set off for Mast Park.  I parked in the Walmart parking lot and walked toward what appeared to be a wall of thick brush.  However, as I approached I spied a well cut path leading through the bushes and began to follow it.  Although easily traversed, the path wound this way and that and wandered to and fro.  Occasionally, I would entire stands of bushes and trees covered in the spun silk of web worms, giving the branches and leaves an eerie glow in the filtered sunlight.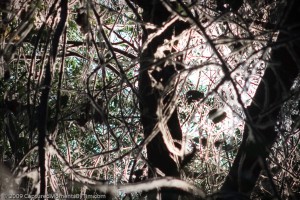 You can see the gossamer coating of silk encasing the branches.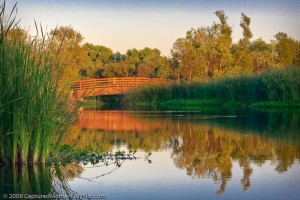 And then, as you reach the final turn of the path, the sky opens up and a bridge appears in front of you.  The bridge crosses the San Diego River as its flow slows and feeds into a wetland park.  Wide expanses of cattails line the banks of the river. and the waterfowl cruise from reed patch to reed patch.
A couple walking their dog, pause to watch the sunset from the vantage point of the bridge.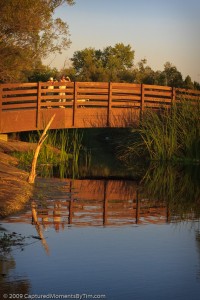 Cattails hug the shoreline of the glassy water as a coot slowly traverses river.  A slight wake trails behind bird.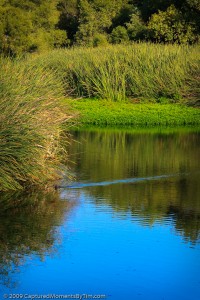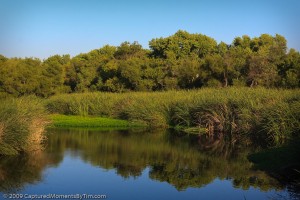 Here's a cattail is going to seed.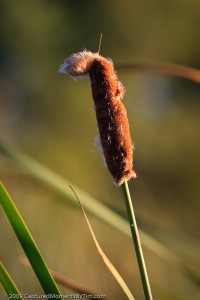 There are quite a few fisherman along the shores of the river, as they try their hand at landing one of the many bass or catfish that can be seen just beneath the water's surface.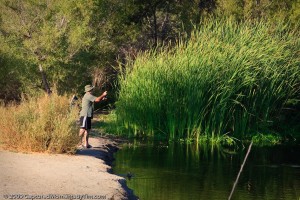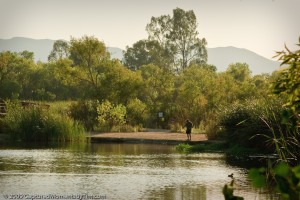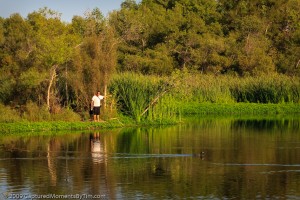 From the far end of Mast Park, even as the shadows begin to deepen amongst the flora of the San Diego River, you can see the light from the setting sun illuminating Rattlesnake Ridge in Santee/Lakeside.  The late day haze begins to change color of the sky into a slight gradient of pink and blue.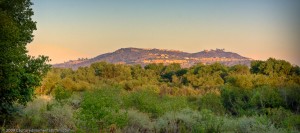 So it turns out that the rumors of an enchanted nature preserve in the middle of town is true.  And now that I know, I will have to make this the first trip of many.