The Play Time Fashion Show took place at the club Numbers in Hillcrest, California, on September 10, 2009.  Jeremy Butts organized and MCed the show as a student project for the fashion program at the California Art Institute.  He did a fantastic job of getting a good selection of sponsors to donate outfits and resources to the show.  There we about 30 or so models each wearing at least two outfits apiece and a crowd of some 300 people in attendance at the show.  He arranged for food, drinks, and a DJ to keep the masses happy.  His only unsolved problem (just days before the show) was that he didn't have anyone to do videography or a dedicated photographer.  That's where I come in!
It just so happened that I was at the right place at the right time to hear about Jeremy's problem.  Jeremy asked C on short notice if she could shoot some video of the event and also if she knew of anyone who would be willing to take pictures.  She then asked me if I was interested in photographing the event.  I might have taken a bit more than a New York second to say yes.
I arrived about an hour early on the evening of the show so I could find a good place to set up shop.  The club looked great with a very long semi-circular runway that passed through two distinct rooms.  I found an unobtrusive spot where the models were guaranteed to pause for a moment on the runway.  The DJ booth was also directly in front of me;  which meant that I could also use the color changing light panels on the DJ booth for an interesting background.  The location was great except for one small detail:  the light where the models would pass through was poor at best.  In fact, the entire club was much darker than I was expecting.  I was hoping to use only ambient light for the shoot, but that was definitely not going to happen.
Luckily, I had my off-camera flash setup with me.  I mounted a 580 EX II flash on a stand with a shoot through umbrella and a couple of Pocket Wizards and I was ready to go.  After a couple of practice runs with the models, I was all set and confident that I had everything I needed.  All of the attendees were seated, the lights dimmed further, and the music started to crank.  The show was ready to begin.
Jeremy took the microphone and gave a brief intro, and then the models started down the runway.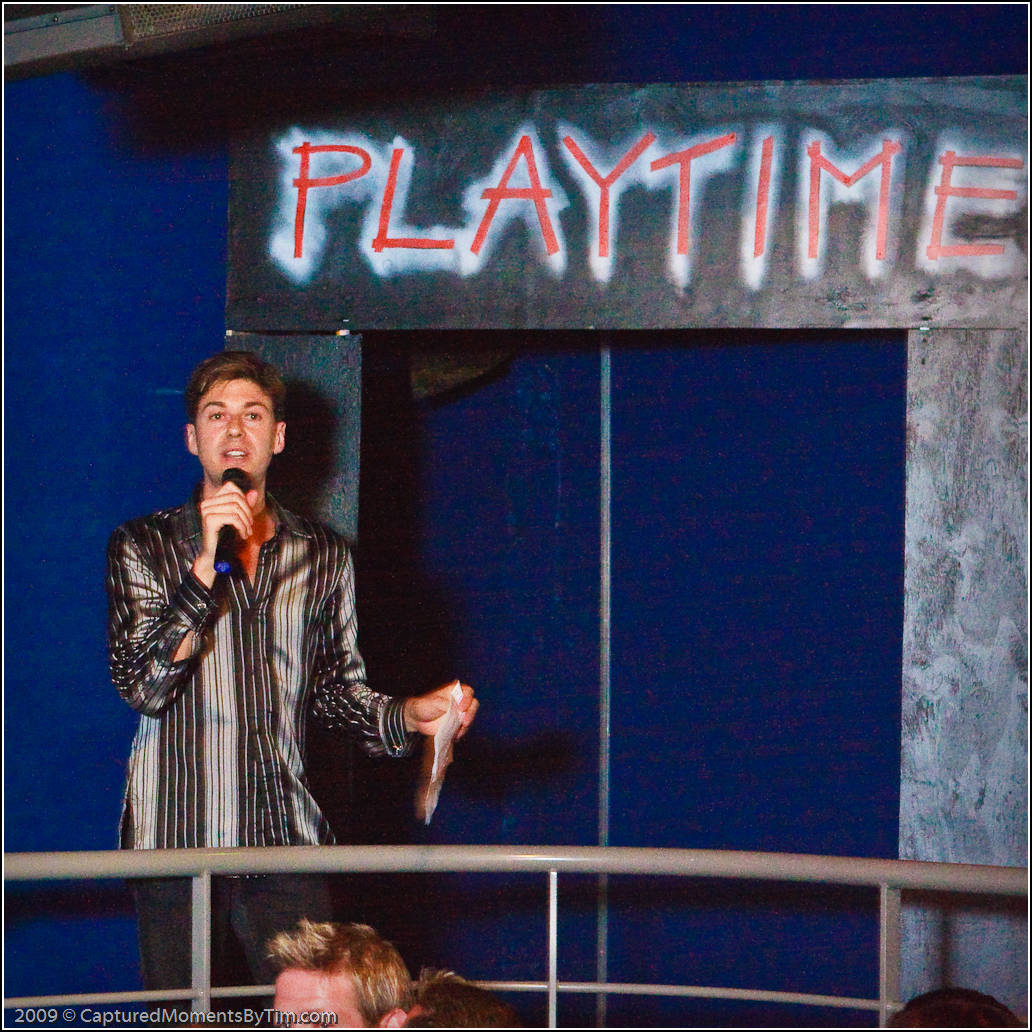 Canon EOS 40D + EF24-70mm f/2.8L USM @ 57 mm — f/4, 1/50 sec, ISO 1600 Continue reading "Play Time Fashion Show" →